Puzzle Number in The Daily Telegraph

DT 28431

Publication Date in The Daily Telegraph

Friday, May 19, 2017
Giovanni (Don Manley)

Big Dave's Crossword Blog [DT 28431]

Big Dave's Crossword Blog Review Written By

Big Dave

Difficulty - ★★
Enjoyment - ★★★

┌────┬────┬────┬────┬────┬────┬────┐

██████████████████████████

█████████

└────┴────┴────┴────┴────┴────┴────┘

█

- solved without assistance

█

- incorrect prior to use of puzzle solving tools

█

- solved with assistance from puzzle solving tools

█

- solved with aid of checking letters provided by puzzle solving tools

█

- solved but without fully parsing the clue

█

- unsolved or incorrect prior to visiting

Big Dave's Crossword Blog

█

- solved with aid of checking letters provided by solutions from

Big Dave's Crossword Blog

█

- reviewed by Falcon for

Big Dave's Crossword Blog
Introduction
Today, Big Dave steps in to fill the blogger's chair vacated by Deep Threat who is on holiday. In his introduction, he comments that the puzzle contains "a nod towards the forthcoming [UK] General Election" (held on June 8, 2017).
My contenders for favourite clue today are 14a and 6d with the former taking home the honours.
I invite you to leave a comment to let us know how you fared with the puzzle.
Notes on Today's Puzzle
This commentary is intended to serve as a supplement to the review of this puzzle found at Big Dave's Crossword Blog, to which a link is provided in the table above.

Primary indications (definitions) are marked with a solid underline in the clue; subsidiary indications (be they wordplay or other) are marked with a

dashed underline

in semi-all-in-one (semi-&lit.) clues. All-in-one (&lit.) clues and cryptic definitions are marked with a

dotted underline

. Explicit link words and phrases are enclosed in forward slashes (/link/) and implicit links are shown as double forward slashes (//).
Across
5a Put down at destination, // fall asleep (4,3)
7a Church faces a very big // state of confusion (5)
"very bid" = OS (
show explanation
)
The sizes of clothing that North Americans would describe as
plus-size
[7]
(or often
big and tall
in the case of men's clothing) would be called
outsize
(
abbreviation
OS
[5]
) in Britain.
hide explanation
What did he say?
In his review on Big Dave's Crossword Blog, Big Dave describes the solution as part of a slogan for the General Election.
During the election campaign, May warned against a Labour-SNP-Lib Dem pact — which she dubbed "a coalition of chaos" — that would "divide our country". After the hung result led the Conservatives to seek DUP support for a minority government, this rhetoric was mocked by opponents.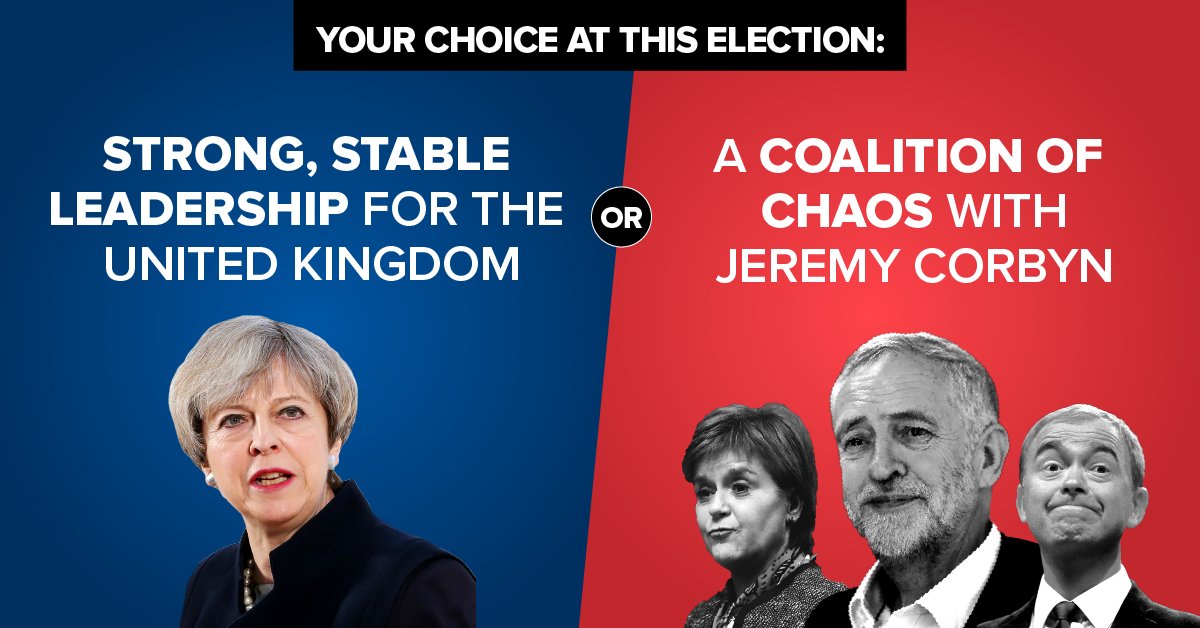 On the left (ironically), Prime Minister Theresa May, leader of the Conservative Party. On the right, Labour Party leader Jeremy Corbyn centring Scottish National Party leader Nicola Sturgeon and Liberal Democrat leader Tim Farron.
9a Recall /being/ all right, always being retrospective about it (6)
10a Like some Europeans /needing/ boost, with EU taking time to intervene (8)
Scratching the Surface
The European Union[5] (also EU) is an

economic and political association of certain European countries as a unit with internal free trade and common external tariffs.



British Prime Minister Theresa May[7] (see 6d) called an early general election for June of this year on the pretext of obtaining a strong mandate to negotiate Britain's exit from the European Union. The outcome was a hung parliament, in which the number of Conservative seats fell from 330 to 318, prompting her to broker a confidence and supply deal with Northern Ireland's Democratic Unionist Party (DUP) to support May's minority government.
11a Iron Man engaging a // publicist (5,5)
Scratching the Surface
The most likely explanation of the surface reading would seem to be an allusion to Iron Man[7], a 2008 American superhero film based on the Marvel Comics character of the same name, produced by Marvel Studios and distributed by Paramount Pictures. It is the first film in the Marvel Cinematic Universe.

However, alternative interpretations are most welcome.
13a Wild animal about // to run (4)
14a Very modern // country frequently requiring courage (5-2-3-3)
16a Not all stifled emotions, /making/ protest (4)
Demo
[5]
is a chiefly British term for a public meeting or march protesting against something or expressing views on a political issue ⇒
a peace demo
.
17a Report of location attracting wise people /and/ tourists? (10)
19a A vile drunk getting into vehicle /is/ discourteous (8)
20a See our lot by street // most debased (6)
"see" = LO (
show explanation
)
Lo
[5]
is an archaic exclamation
used to draw attention to an interesting or amazing event
⇒
and lo, the star, which they saw in the east, went before them
.
hide explanation
22a Trotter starts to flog this // pottery (5)
Derek "Del Boy" Trotter
[7]
is the fictional lead character in the popular BBC sitcom
Only Fools and Horses
which originally aired from 1981 to 1991 (with sporadic Christmas specials until 2003).
Delft
[10]
(
also called
delftware
) is:
tin-glazed earthenware made in Delft (

a town in the southwestern Netherlands

) since the 17th century, typically having blue decoration on a white ground; or

a similar earthenware made in England

.
Scratching the Surface
As jean-luc cheval comments in Comment #29 on Big Dave's Crossword Blog, "the surface of the clue led directly to the character".

Del Boy works as a market trader*[7], running his own company, Trotters Independent Traders (T.I.T.), either from out of a suitcase or from the back of his bright yellow Reliant Regal supervan. With a never-ending supply of get-rich-quick schemes and an inner belief in his ability to sell anything to anyone, he embroils "the firm", as he calls the family business, in a variety of improbable situations. This unwavering confidence gives rise to his oft-proclaimed ambition "This time next year, we'll be millionaires!".

---
*
In this case, market trader
[5] denotes a person running a stall at a market — not
a trader on the stock market.
23a Seen in tabloid, gent waving // weapon (4,3)
The Sun
[7]
is a daily tabloid newspaper published in the United Kingdom and Ireland by a division of News UK, a wholly owned subsidiary of
Australian-born American publisher and media entrepreneur
Rupert Murdoch's News Corp.
A
Sten gun
[5]
is a
type of lightweight British sub-machine gun.
Down
1d Old-fashioned type /given/ repeated encouragement to act (4)
2d Observe legal process // that keeps paper money secure (8)
Notecase
[5]
is a dated British term for a
small flat folding case or wallet for holding banknotes.
3d Secret // old Conservative sect (6)
"Conservative" = C (
show explanation
)
The abbreviation for Conservative may be either C.
[10] or Con.
[10]
.
A
Tory
[10]
is a member or supporter of the Conservative Party in Great Britain or Canada.
Historically, a
Tory
[10]
was a member of the English political party that opposed the exclusion of James, Duke of York from the royal succession (1679–80). Tory remained the label for subsequent major conservative interests until they gave birth to the Conservative Party in the 1830s.
The
Conservative Party
[5]
is a a major British political party that emerged from the old Tory Party under Sir Robert Peel in the 1830s and 1840s. Since the Second World War, it has been in power 1951–64, 1970-74, and 1979–97. It governed in a coalition with the Liberal Democrats from 2010 until the general election of May 2015, in which it was returned with a majority.
hide explanation
4d Arrived, carrying round university emblem, /in/ disguise (10)
5d Gloomy // person at surgery perhaps needing attention (5)
Surgery
[5]
is a British term for a place where a doctor, dentist, or other medical practitioner treats or advises patients [
equivalent term in North America:
doctor's office
].
6d Men in leadership roles // could make Theresa gruff, I fancy (6,7)
Scratching the Surface
Theresa May[7] is the Prime Minister of the United Kingdom and Leader of the Conservative Party, having served as both since July 2016. She is the second female Prime Minister and Conservative Party leader after Margaret Thatcher.
8d Discharge --// it goes into sort of waterfall (4,3)
12d Boy and friend going under water // at a certain time of the year (10)
14d Official /in/ street on eastern part of city? (7)
15d Provider of accommodation /has/ house on row for the Spanish to occupy (8)
17d Holy army isn't bad /for/ holy people (6)
The
Salvation Army
[7]
(
also
SA
) is a
worldwide Christian evangelical organization on quasi-military lines. Established by William Booth, it is noted for its work with the poor and for its brass bands.
18d Sticky stuff // in fire, sinking (5)
21d Witty folk // who watch their partners at matches? (4)
A
WAG
[5]
(
from the acronym
WAGs
'wives and girlfriends') is an informal term for a
wife or girlfriend of a sports player, typically characterized as having a high media profile and a glamorous lifestyle.
I hesitate to contradict Big Dave, however this clue does seem to me to be a double definition. I have observed that it is not uncommon for definitions to start with a relative pronoun (especially, but not necessarily, in double definitions). In such cases. one must read the definition as though the implied word "(some)thing(s)" or "(some)one(s)" were included in it. Thus, here we would interpret the second definition to be "(ones) who watch their partners at matches".
A similar device is found at 2d where we must infer that the definition is "(something) that keeps paper money secure". Note that 2d is not a double definition, but a clue consisting of wordplay followed by definition.
Having written the foregoing remarks before reviewing the comments on
Big Dave's Crossword Blog
, I am gratified to see that none other than Giovanni himself confirms my assessment at
Comment #20
.
Key to Reference Sources:

[1] - The Chambers Dictionary, 11th Edition
[2] - Search Chambers - (Chambers 21st Century Dictionary)
[3] - TheFreeDictionary.com (American Heritage Dictionary)
[4] - TheFreeDictionary.com (Collins English Dictionary)
[5] - Oxford Dictionaries (Oxford Dictionary of English)
[6] - Oxford Dictionaries (Oxford American Dictionary)
[7] - Wikipedia
[8] - Reverso Online Dictionary (Collins French-English Dictionary)
[9] - Infoplease (Random House Unabridged Dictionary)
[10] - CollinsDictionary.com (Collins English Dictionary)
[11] - TheFreeDictionary.com (Random House Kernerman Webster's College Dictionary)
[12] - CollinsDictionary.com (Webster's New World College Dictionary)
[13] - MacmillanDictionary.com (Macmillan Dictionary)
Signing off for today — Falcon